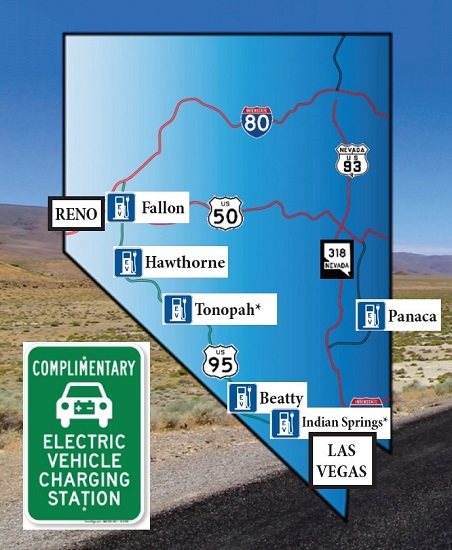 REV West Highway
The Western United States will soon see an electric car charging network that covers 5,000 miles of roadways.
Governors of eight western states signed a memorandum of understanding to expand transportation options and increase the availability of electric vehicle infrastructure and charging stations along its major highways. It is called the Regional Electric Vehicle Plan for the West (REV West). The memorandrum was entered by Colorado, Utah, Nevada, Montana, Wyoming, Idaho and New Mexico, and Arizona.
The western states agreed to establish electric highways, with EV charging stations, making it possible to travel major highways seamlessly, across eight states (REV West Highway), without range anxiety.
REV West calls for the participating states to work cooperatively to establish policies that will support the development of EV charging stations spanning a total of 5,000 miles along major transportation corridors that link the states together.
The signers of REV West anticipate a future with much higher levels of EV usage. REV West states have already formed a leadership committee that will meet quarterly and will report efforts by the states to include:
Coordinating station locations to optimize usage.
Develop operating standards for charging station uniformity to minimize inconsistency in charging station infrastructure and technologies in each state.
Establishing voluntary minimum standards for electric car charging stations.
Explore ways to incorporate EV charging stations in planning and development processes.
Encourage automakers to stock a variety of EVs in participating states.
Develop practices and procedures that will encourage electric car ownership and address "range anxiety".
Identify and develop opportunities to incorporate EV charging station infrastructure into planning, development processes and future building and development.
Collaborate on funding and identify opportunities to support REV West.
The REV West agreement highlights the establishment of public/private partnerships in order to support electric car.
Electric Highways
The highways noted in the collaboration agreement include, but are not limited to:
Interstates 25, 70 and 76 in Colorado
Interstates 15, 84, 86, and 90 in Idaho
Interstates 15, 90 and 94 in Montana
Interstates 15, 80 and 95 in Nevada
Interstates 10, 25 and 40 in New Mexico
Interstates 15, 70, 80 and 84 in Utah
Interstates 25, 80 and 90 in Wyoming
Interstates 8, 10,19 and 40 in Arizona
The REV West agreement does not specify any funding methods or levels of funding for the program. Each state will decide on the level, source, and method of funding for the portion of the network to be installed in their state. Much of the funding in each state will come from the Volkswagen emission scandal settlement. In fact the mitigation settlement will be the largest source of funding - $68.7 million. States are allowed to spend 15% of their settlement on electric car charging stations.
Strong political support will be crucial to carrying out the REV West Plan, requiring efforts from numerous state agencies as well as the private sector. It will take political cooperation from these bi-partisan Governors to The REV West Highway to accomplish its goals.
Broad EV infrastructure planning requires decisions regarding the role of the local electric utility. Options exsist from the utility only providing permits for new charging stations to a very active role where the utility installs, owns and operates the EV charging stations. The plan must also provide inclusion to third party EV charging station operators.
To carry out a regional plan among various states for EV charging infrastructure requires seamless integration. As battery technology has rapidly improved, EVs are being equipped with much larger battery systems that enable them to travel further on a single charge. These EVs and next-generation EVs will require higher powered fast chargers than the current generation of electric vehicles.
REV West planners must consider the best way to accommodate future charging station needs in this rapidly changing industry, installing the highest-capacity EV station equipment on the market and building extra electric capacity into the connecting equipment to facilitate a future with much higher utilization than today.
The REV West plan is the latest sign that electrification of our nation's transportation sector is underway.