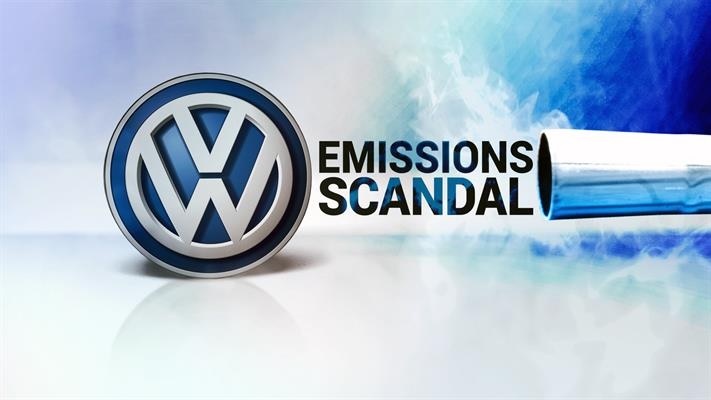 Volkswagen's $10 Billion Emmissions Settlement
In September of 2015, Volkswagen admitted that more than 500,000 cars, sold in the US between 2009 and 2015 were equipped with secretly installed software that was programmed to turn on emissions controls during government exhaust emissions tests and turn the same controls off while the car was on the road. These vehicles emitted up to 40 times the legal limit of nitrogen oxide and pollutants.
After being caught and sued, Volkswagen agreed to pay more than $14.7 billion in the US to settle claims from owners, environmental regulators, states and car dealers of cheating emissions.
There are 3 parts to the settlement.
1. $10 billion will be used to buy back customer cars and modification programs.
2. Volkswagen itself will spend $2 billion on zero emission vehicle (ZEV) infrastructure (building electric car charging stations) and brand neutral EV advertising to increase public awareness of zero emission vehicles.
3. $2.7 billion will be spent to create the Volkswagen Environmental Mitigation Trust. These funds will go directly to states, territories and tribes to fund projects to reduce emissions and for clean transportation.
States can spend as much as 15 percent of their Volkswagen Settlement funds for construction of public charging stations for electric cars, creating many electric highways. Most states are likely to spend the full amount. Remaining funds should be spent on investments like zero emission buses, electric school buses, electric service trucks, electric forklifts, and cleaner port vehicles.
States are currently in the process of developing plans to use these funds for eligible mitigation projects and engaging other state offices to develop joint plans.
Volkswagen's emissions cheating cost them billions but their settlement now benefits electric cars and buses with thousands of new charging stations across the country, moving us all towards cleaner transportation and away from our reliance on oil. Settlement funds will be well spent on vehicle electrification programs.
Nevada expects to receive $22.5 million from the Volkswagen Environmental Mitigation Trust between 2017 and 2027. The Nevada Division of Environmental Protection (NDEP) was selected to be the lead agency on behalf of the State.
The Nevada Division of Environmental Protection has allocated the maximum amount allowed under the Volkswagen Environmental Mitigation settlement — 15 percent of the funds — to electric vehicle charging infrastructure.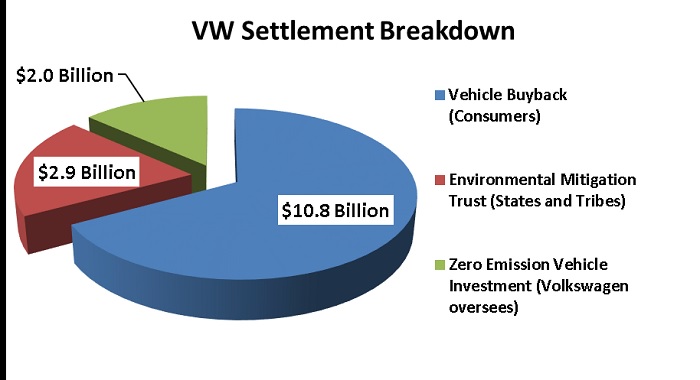 Volkswagen Settlement Funds Are Advancing Electric Vehicles
From the $2.7 billion settlement, each state is allocated a different amount based on the proportion of cheating vehicles sold in their state.
Division of the $2.7 Billion Volkswagen Environmental Mitigation Trust
Puerto Rico
North Dakota
Hawaii
South Dakota
Alaska
Wyoming
District of Columbia
Delaware
Mississippi
West Virginia
Nebraska
Montana
Rhode Island
Arkansas
Kansas
Idaho
New Mexico
Vermont
Louisiana
Kentucky
Oklahoma
Iowa
Maine
Nevada
Alabama
New Hampshire
South Carolina
Utah
Indiana
Missouri
Tennessee
Minnesota
Connecticut
Arizona
Georgia
Michigan
Colorado
Wisconsin
New Jersey
Oregon
Massachusetts
Maryland
Ohio
North Carolina
Virginia
Illinois
Washington
Pennsylvania
New York
Florida
Texas
California
Tribal Allocation
Trust Administration Cost
Tribal Administration Cost
Total
$7,500,000.00
$7,500,000.00
$7,500,000.00
$7,500,000.00
$7,500,000.00
$7,500,000.00
$7,500,000.00
$9,051,682.97
$9,249,413.91
$11,506,842.13
$11,528,812.23
$11,600,215.07
$13,495,136.57
$13,951,016.23
$14,791,372.72
$16,246,892.13
$16,900,502.73
$17,801,277.01
$18,009,993.00
$19,048,080.43
$19,086,528.11
$20,179,540.80
$20,256,436.17
$22,255,715.66
$24,084,726.84
$29,544,297.76
$31,636,950.19
$32,356,471.11
$38,920,039.77
$39,084,815.55
$42,407,793.83
$43,638,119.67
$51,635,237.63
$53,013,861.68
$58,105,433.35
$60,329,906.41
$61,307,576.05
$63,554,019.22
$65,328,105.14
$68,239,143.96
$69,074,007.92
$71,045,824.78
$71,419,316.56
$87,177,373.87
$87,589,313.32
$97,701,053.83
$103,957,041.03
$110,740,310.73
$117,402,744.86
$152,379,150.91
$191,941,816.23
$381,280,175.09
$49,652,857.71
$27,000,000.00
$993,057.15
$2,700,000,000.02